Welcome to Reception!
Class Teacher: Mrs Attard
Welcome to the Reception class page. You can find out all about our learning and topics by clicking on the curriculum letter link.
Termly Curriculum Letters
Friday 18th November 2016
On Friday 18th November 2016 some specialist teachers came to the school to work with the children. The children took part in a variety of activities throughout the day. With the Artist Jim Scott the children learnt about printing and used the large sheets of printed paper to make costumes. They also worked with Liz Lawrence a science and DT teacher where they looked at materials and chose what was suitable to make clothes for a superhero and they also made puppets.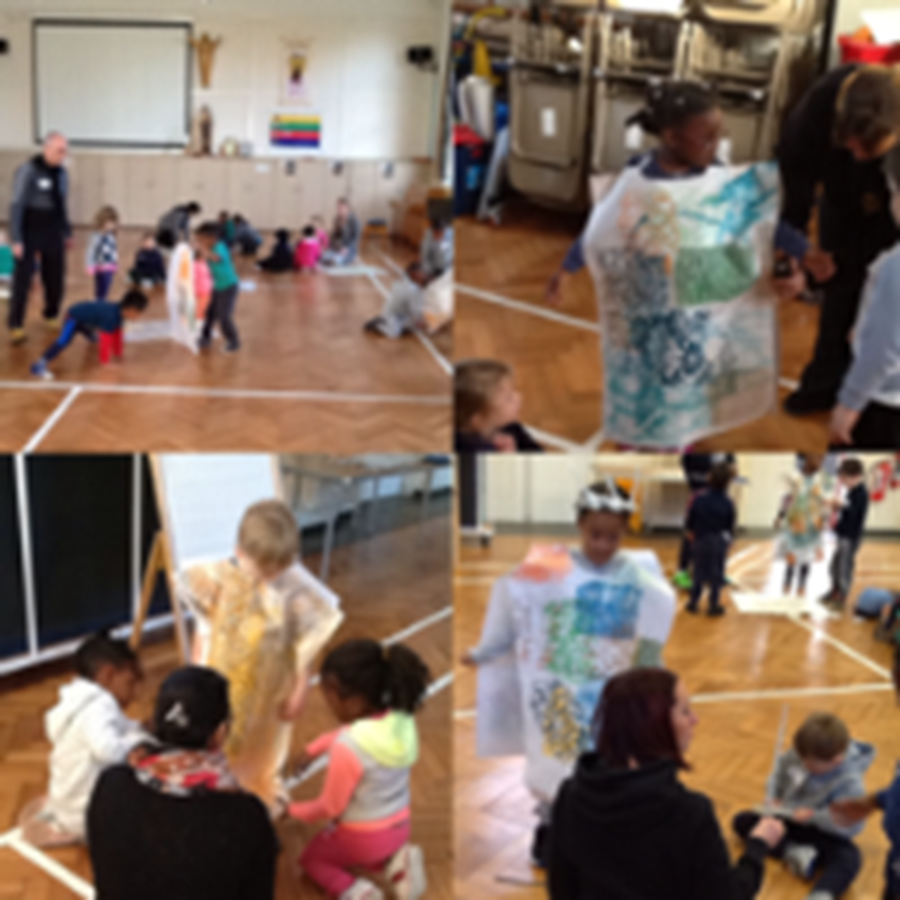 Awards for the staff at St. Teresa's (30th September 2015)

Today Mrs Healy, Mrs Brown and Mrs Hanrahan attended 'A celebration of Positive Practice' at Boothroyd Hall, Castle Green. Mrs Healy was presented with a certificate for 10 years service to speech and language practice, Mrs Brown was presented with a certificate for her work in Reading Recovery and Mrs Hanrahan was presented with a certificate for her work in dyslexia. It was great to attend with Mr Corcoran and see all the good practice that is happening in Barking and Dagenham.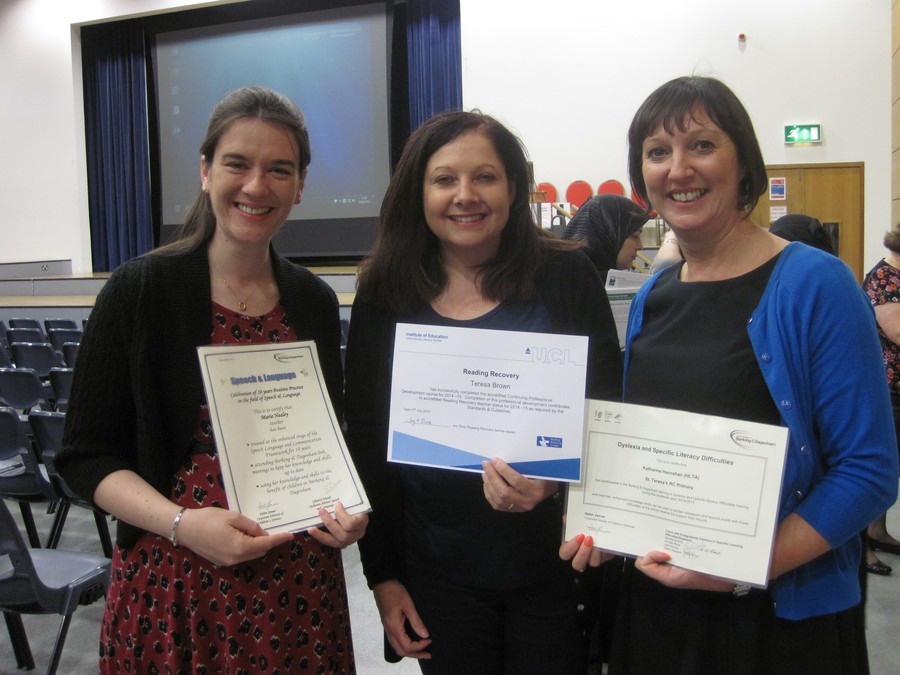 Pete the Cat comes to visit our Reception class (23rd September 2015)
This morning, we made a new friend in class. We met Pete the Cat. He came into class with his very own story book all about him. He told us how he likes to rock in his school shoes. He asked us to rock around the school and introduce him to the different places in school. We rocked in our school shoes to the dining room, the hall, the sick room, the playground and the library.
Birthdays at St. Teresa's (22nd September 2015)
A birthday is a very special event in your child's life and they can bring in sweets to celebrate with their friends. Please ensure that your child brings in 30 sweets e.g. a small packet of haribo or a mini chocolate bar (no nuts) each. Check that there is 30 because we would hate to leave a child out. If you wish, you can also bring in a box of chocolates and your child with a friend will go around the school to all of the teaching staff and share a chocolate with them at 1pm. Unfortunately you cannot bring in party bags, toys or birthday cake.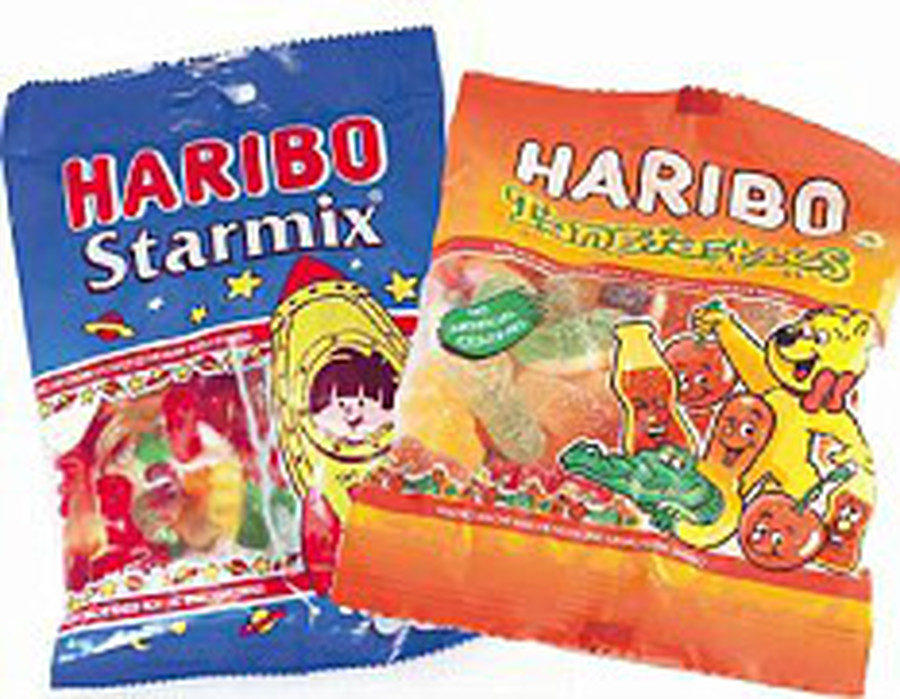 Reminder about snacks and water bottles (22nd September 2015)
Don't forget that your child should bring a water bottle to school every day filled with water. Please check that the bottle doesn't leak and clearly has your child's name written on it. Also your child should be able to open and close the bottle without any help. They are able to have the water whenever they wish throughout the school day. We are introducing the rolling snack table which enables your child to enjoy a piece of fruit or vegetable with their water at anytime during the child led play. This encourages self-care and their own awareness of their needs when they are feeling hungry or thirsty. It is also a lovely sociable time as they chat with their friends at the round snack table.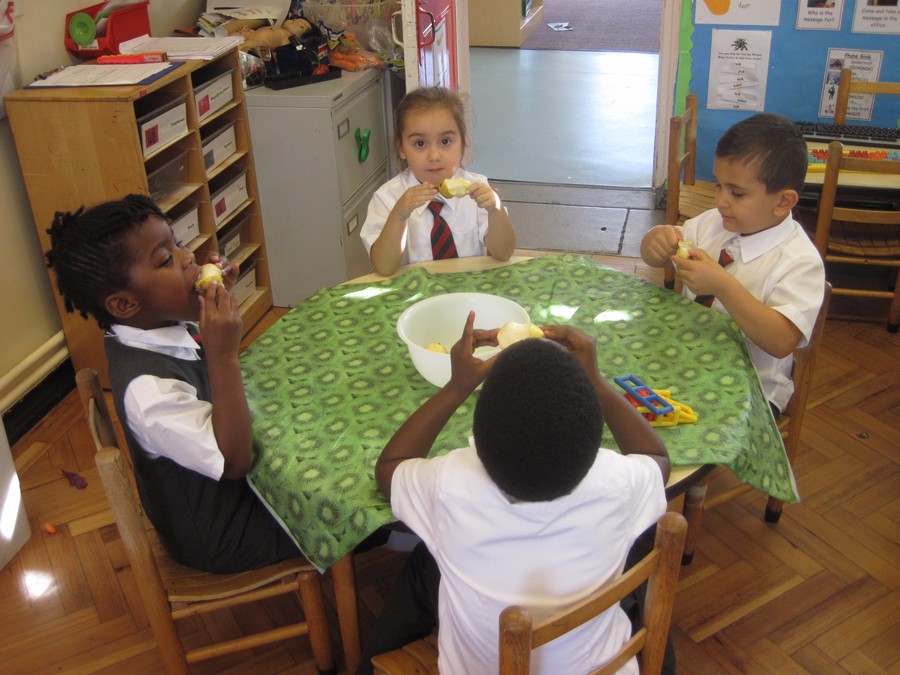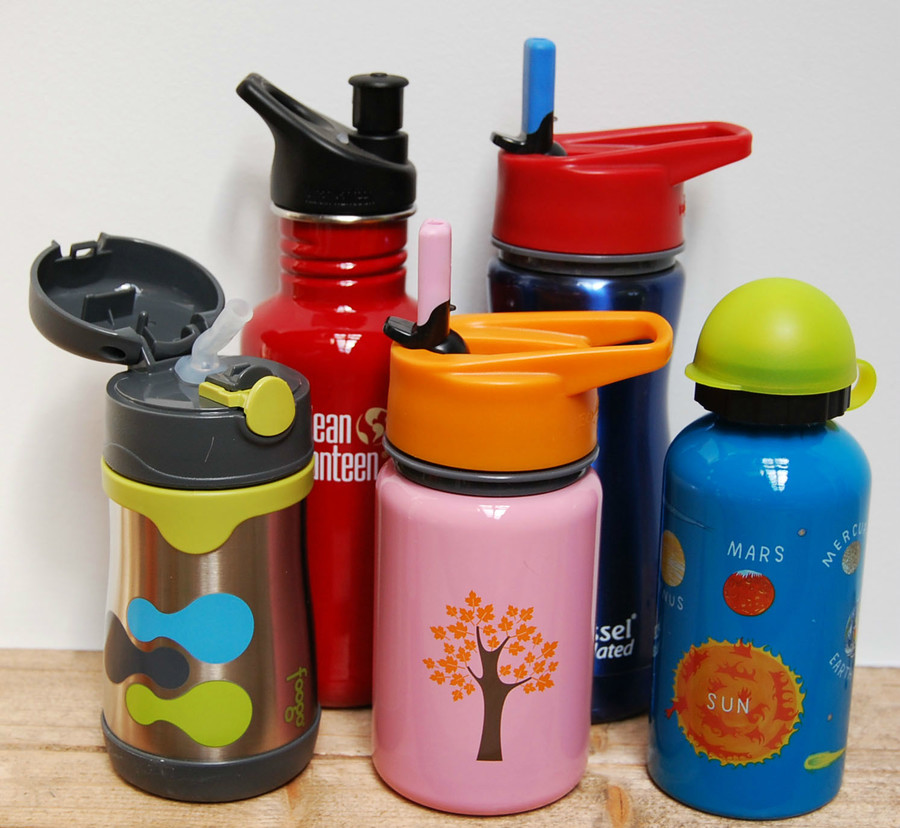 Our first PE lesson (18th September 2015)
This morning the children got changed into their PE kits for their first PE lesson in the hall. They did a super job following the instructions and being independent as they undid their buttons and got changed. They were learning to travel in different directions and they were listening for the cues 'Stop' and 'Go'. Well done!
P.E. (18th September 2015)
The PE lesson will be every Friday morning. The children keep their PE kits in their bag on their peg until holiday when it will be sent home to be washed.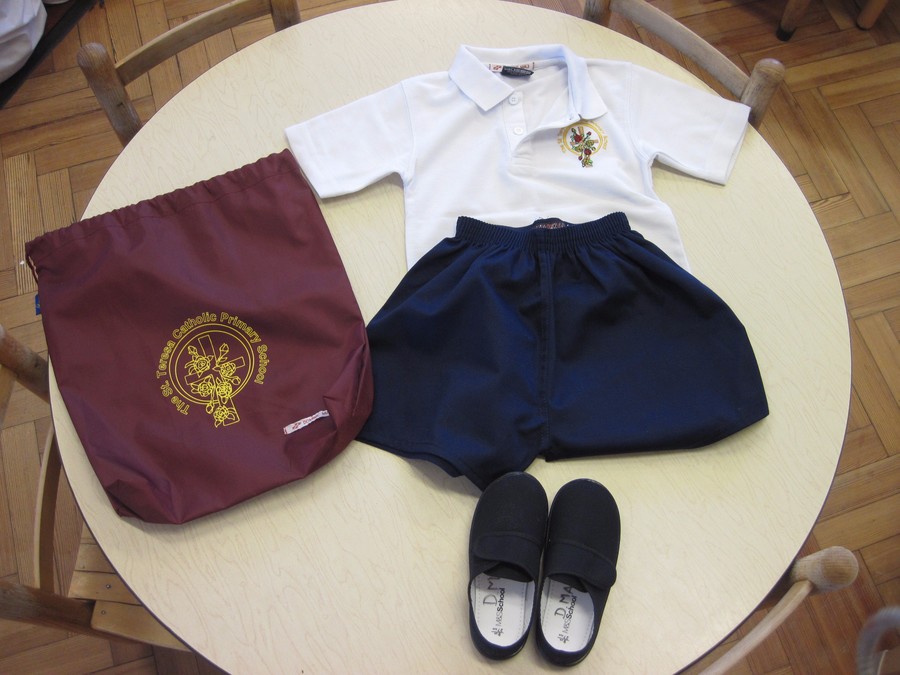 Look what we found in the garden (15th September 2015)
We were playing in the garden when we found apples and pears growing on the trees. We counted 1, 2, 3, 4 apples and 1, 2 pears. We took an apple from the tree and chopped it up. We ate it in class. It was delicious.
Our first music lesson (15th September 2015)
Today we enjoyed our first music lesson with Miss Henton. She introduced us to her musical bear, Mozart. We learnt to sing sing some songs with Miss Henton.
Reading books and homework (14th September 2015)
Every Monday, your child will bring home their homework book and two reading books for the week.
In September, the books will contain no words, only pictures. Together with your child, you need to look at the pictures and tell the story. Please ensure that you use lots of language and use phrases from stories e.g. Once upon a time, then, next, suddenly, the end. After reading the books, ask your child questions to ensure that they have understood what they have read e.g. why did the girl cry? As the week progresses, encourage your child to read the books to you since you have modeled the language for them.
For the homework, your child will be given two activities to complete at home. It will be a Maths and Literacy homework. They are not worksheets but activities that you do at home as a family and record how your child enjoyed the activity. The homework needs to be returned every Friday. We don't give homework over the weekend because that is your family fun time together.
Settling in (3rd - 11th September 2015)
Over the past week, with a staggered intake, the children have settled in fantastically into the Reception class. They are learning the routines of the school day and making lots of new friends.
Lunchtime
The children have really enjoyed eating lunch at school. They are learning to use their knife and fork for the mains and their spoon for dessert. They are able to clear their trays once they have finished their lunch. Afterwards they are playing in the playground really well. They have a special area in the playground to play with some class toys if they are finding the whole playground overwhelming.
Uniform
Just a reminder to ensure that all of their uniform has their name clearly marked on it.